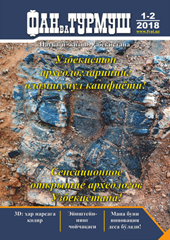 The journal is registered at the Agency for Press and Information of the Republic of Uzbekistan on December 6, 2006.Registration Certificate No. 0022. (ISSN 0134-4560)
The magazine "Fan va turmush" - "Science and Life of Uzbekistan" is one of the oldest popular scientific publications in Uzbekistan counting 85 years. The first issue of "Fan va turmush" in Uzbek was published in 1933.
Goals and objectives: Education and popularization of scientific achievements of the world, domestic science and technology among a wide range of readers in the Republic of Uzbekistan. Since 2003, in order to expand the readership, it started to be published in Russian simultaneously.
Editor-in-Chief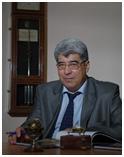 Ehgamberdiev Shukhrat Abdumannapovich
Academician, Doctor of Physical and Mathematical Sciences
Ehgamberdiev Shukhrat Abdumannapovich was born in Tashkent, on December 18, 1953, graduated from the Astronomical Department of the Physics Department of Moscow State University (MSU) in 1977. In 1982 he successfully defended his thesis "Investigation of solar X-ray bright points" for the degree of candidate of physical and mathematical sciences (equivalent to Ph.D.) in Moscow State University. Since 1982. First as a young scientist (1982), senior research fellow (1985), then as head of the solar physics department (1986), and finally as director of the institute since 1995. In 1994, Shukhrat Ehgamberdiev at Moscow State University successfully defended his thesis for the degree of Doctor of Physical and Mathematical Sciences. He is a member of the International Astronomical Union, the Euro-Asian Astronomical Community. He is also a member and chairman of several international meetings and symposia. For his contribution to the development of science, he was awarded the Mehnat Shuhrati order and international awards: the French order l'Ordre des Palmes académiques and the La médaille de l'Adions medal (Nice, France). In 2017 he was awarded the title of academician of the Academy of Sciences of Uzbekistan.
Since 2002, he is the editor-in-chief of the magazine "Fan va turmush" (Science and Life of Uzbekistan)
| | |
| --- | --- |
| Address: | 100047, Uzbekistan, Tashkent, Yakhyo Gulyamov street, 70. |
| Telephone: | (+998-71) 233-50-33; 233-07-05 |
| Fax | (+998-71) 234-48-67 |
| E-mail: | |
| Web-site: | |
Authors can send materials to the e-mail of the editor-in-chief, with the obligatory follows indications: name, surname, full name of organization or type of activity (if the author is not an employee of any institution).
Responsibility for the reliability of the facts stated in the published materials and advertising are borne by their authors. Editorial opinion does not always coincide with the opinion of the authors. Manuscripts do not return to authors.